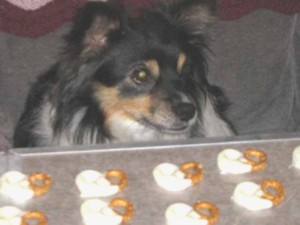 Christmas pretzels Mom's best

Me on motel bed
Karma's Blog
A dogs point of view of the Antiques Business & Life in general
---
OK! We just got back from 2 shows on the East Coast & Mich. I think that Mom & Dad were not happy. Of course I did not feel that it was too bad but, I did get sick and I heard that back East water can do that to a girl but. as Dad pointed out all I drink is bottled water. (I would go for Perrier water buttttttttt, Dad said we can not afford it).
---
Uncle Rick and Heather were there with us and they brought cookies for me but, Mom said that I could not have any 'cause she thinks that is what is making me sick.
---
It was hot and huu--mid, and I was moving slow. I actually would sleep all night and did not get Dad up at all. He was really happy about this. However, I would every-so-often fool him and make him get up 2 or 3 times. Dad gets cranky when I do this but, ya know "I don't Care".We are not home and working on the back yard--well---OK Dad's working and I'm watching.We are suppose to start on an estate today (June 9th) but, not sure what happened--Dad said that we are waiting for the people to finish working on the house.
---
More Later.
---
Karma