Kismet came to us during a show in Sun Valley, ID. When we first saw she was running around the show field very intensely looking for the lady she was with my first thought was "what a great looking dog". Little did I know we would end up getting her.
This was in Sept. almost 11 years ago. We had just lost our last St. Bernard and had no plans on having another dog. My thoughts were if we get another dog it has to be pre-trained or just plain smart. Be careful what you wish for ! The lady she was with was going to give her to the pound because she could not take care of her. She had found Kismet abandoned at a gas station. Kismet sort of chose her own name, we tried some and she responded to Kismet. So, it was fate. Kismet was one of the most intelligent dog we have ever owned. In saying this we never really owned her, she always was on her own even with us.
Kismet touched a lot of people, the first show we took her to she was out in the middle of the aisle on her back having people scratch her belly. She was the "Will Rogers" of dogs. She never met a person she didn't like. And if they didn't like dogs she would work on them until they did.
Kismet was always 5 to 6 steps ahead of us. I never could train her she just knew everything. Her attitude was if she did anything once for me that was good enough. She did not do leashes very well either, she was always better off the leash.
She was the first dog that was allow into Kaye's folks house. And she worked Kaye's Dad until he would give her turkey when he was cutting it for Thanksgiving Dinner.
Kismet was not afraid of anything. Large trucks, cars and other dogs did not bother her. She never started a fight but, she would finish it. We think she would say something under her breath and when the other dog started at her she would take them out then she would always look innocent with that "who me" look.
Kismet has gone to a better place where she can see, hear and run with other dogs that have gone before her. She was a special dog to everyone she met and will be greatly missed. There will never be another Kismet.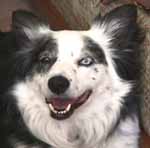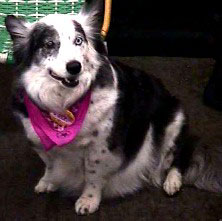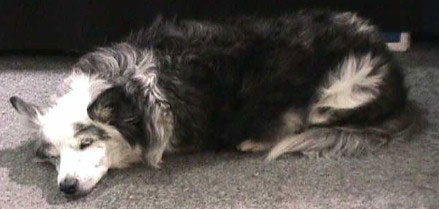 Free counters provided by Honesty.com.
Copyright
2007 Eclectic Antiques
All Rights Reserved Worldwide
Site design by Kizmaton. Hosting by Orange County Online